10 TIMES BAZ LUHRMAN'S ROMEO AND JULIET WAS SET DESIGN GOALS
Baz Luhrman's Romeo and Juliet is probably my favourite film in all of history. I've only recently realised the influence of this tragic love story with hyper real styling and set design on my aesthetic, now 20 years on. That's right folks, it's the 20th anniversary. Make you feel old?
R+J was the epitome of cool back when I was 11. What's even cooler to me is the fact that you can watch this film now and it still smacks it out of the park when it comes to style, design and overall being DOPE AS F*CK.
Films like this, I realise now 20 years on, have majorly influenced my style and how I create looks and sets, so I thought I'd share the 10 times that Romeo and Juliet was set design goals.
THE BEACH
Vivid colours, 90s bikinis, Hawaiian shirts, fairground rides... need I say more? P.S Romeo's mate is totally making me want my pink hair back.
THE BAR
Gold palm trees, 90s glamour shots and distressed paint... dope.
THE CAR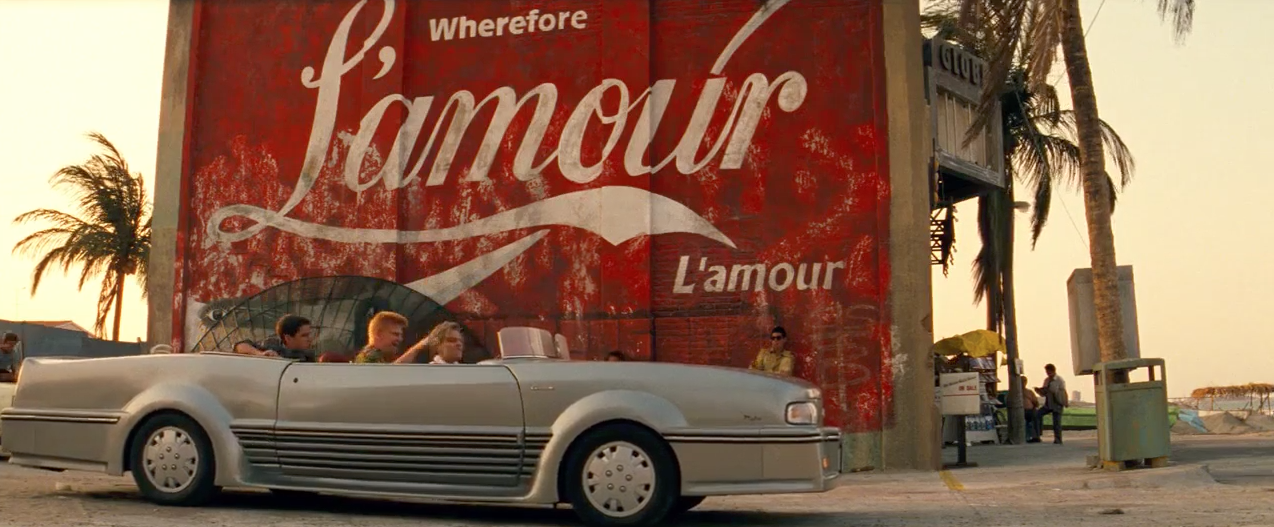 A customised 1981 Chevrolet Monte Carlo to be exact. Yes I researched it. Throughout the film you see nothing but retro cars, usually 70s-80s models like Chevrolet, Ford Galaxies and others. watch this film again and pay attention to the cars. So sick.
Oh look at it in all of its pastel pink glory! What I wouldn't give for a room that was pink from top to bottom... Reminds me a bit of Sketch, or the entry at the Brighton Royal Pavilion!
THE BEDROOM
Ok Juliet's bedroom is probably my least favourite, no-one needs that many creepy angel statues or dolls, but the overall effect is pretty frickin' cool. I'm obsessed with Mexican style religious iconography and the inclusion of this throughout the film is nice.
THE FISH TANK
The acid coloured tropical fish tank was the meeting place of our two lovebirds and what better. Those neon coloured fish again the softy softy youthful skin of Leo and Clare. Awww!
THE MAID'S APARTMENT
Literally no design detail was left uncovered in this film - even Juliet's maid had a sick pad, and her personal style is pretty fly too if you ask me. I love how when she's working for the Capulets she is plain and unfussy, and as soon as she has a day off she's like BAM. Leopard print overload.
The luminous electric blue against the stonework and fairy lights provided the perfect setting for our lovebirds secret encounter.. I also love the casual gold elevator too. Normal.
THE MANSION
The Capulet mansion is decorated similarly to the moodboard of a Russian Oligarch's Interior deisgner. Gilt, sweeping staircases, over the top 'luxe' decor and lots of gold. Oh and more palm trees. And rope lights. And fairy lights. And glitter. And NEON. OH IT'S SO BAD IT'S GOOD.
THE CHURCH
Nothing quite does the justice of the final resting place of our star crossed lovers, the church that basically shits on every church I have ever been to in my life. Perhaps if churches looked like this I might take up being religious? Probably not. I just have three words for you... neon, neon, neon. Even their death spot was lit (literally).
Go and watch it now!
S x