TRAVEL DIARY: WHITSTABLE - VINTAGE SHOPPING, OYSTER TASTING AND CHARITY SHOP HAULING
Hey peeps! At the end of summer my friend Naomi and I took a little weekend down in Whitstable to celebrate us both turning 30. I'd heard so many great things about Whitstable and all of the vintage shopping, great food.... and more vintage shopping. Of course it was the perfect choice for two girls whose ideal day is spent rummaging through the racks of a local charity shop. Ahhh, bliss.
See what we managed to find and check out my top recommendations for where to eat and shop.
Oh and I tried oysters for the first time ever. Like or puke? Find out!
Firstly we found a great place on AirBnB which was right on Tankerton high street which is about a 10 minute walk along the beach to the main Whitstable high street.
On our first day we went for a wander, took silly pics along the beach and discovered that Naomi had in fact accidentally come dressed as a lifeguard.
Along whitstable high street there are loads of quirky independent shops including antiques, homewares, charity shops and more. The first stop was the antique shop which was tiny and packed full of goodies, along with a rather funny shop owner, who asked if Naomi and I were on a 'dirty weekend'... cheeky bastard!
I think you get an idea of his personality with his amazing shop opening hours sign...
We also checked out some of the charity shops down Whitsable high street. There are about 5 or 6 and they have much better stuff than in London. It's really easy to find bargains and unique pieces that would be snapped up by resellers anywhere else. Naomi and I basically played dress up for about 3 hours. She was my barbie.
First day purchases included a 60s emerald green satin dressing gown, pink silky pyjamas and I can't even remember what else! I just remember I spend about £20 and came away with bags full of stuff.
For lunch we headed to VJs (apparently the best fish and chips in Whitstable according to our host), and then ate fish and chips on the beach front. Honestly the best fish and chips I've EVER tasted!
After lunch we went back to the high street to check out the rest of the shops. It's full of art galleries, antique shops, vintage shops and quirky little homewares and clothing stores. Almost everything is independent so you'll definitely find unique bits and bobs along here. My fave was Valentine's, a really nice retro store with a focus on midcentury pieces and a lovely owner.
At this point, being all shopped out, there was only one thing to do. Drink shandy....
...and take a leisurely stroll back along the coast to the house. So many stacks of oyster shells everywhere! I had to resist taking all of them for my rubbish craft projects.
That night we went for dinner at Jojo's, a meze meat and fish restaurant in Tankerton as we'd heard amazing things. We got a seat at the kitchen counter so that we could see what was going on which was pretty cool. Would highly recommend dinner there, super reasonable price wise too, and boy did we eat. And drink.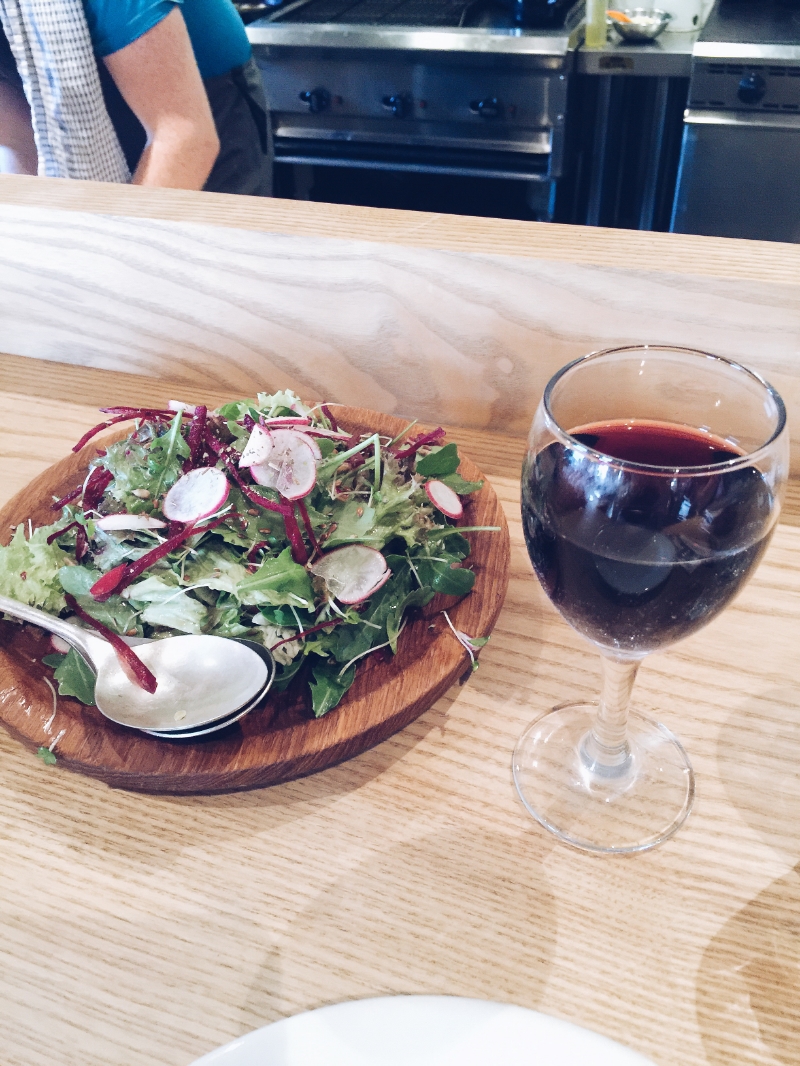 Needless to say, the next day we were pretty 'over' fried food. Yeah I didn't think it was possible either but apparently so. Craving something savoury and nourishing Naomi forced me to try oysters for the first time at The Forge (also recommended by our lovely AirBnB host). It had been something that was being discussed the whole weekend and I was NOT looking forward to it. I mean look at it, it looks like a shrivelled up pair of .... I don't even want to say! SORRY FOR BEING GROSS BUT IT DOES.
Anyway, I did it. And I have to say....
I liked it.
I wanted more!
I think it's something to do with the lemon and Tabasco as I'm a bit of a bloody Mary kinda girl.
Another pressing challenge in life knocked down with ease, we strolled back to Tankerton high street to hit up the many, many charity shops that we'd seen along the stretch. Including a Sue Ryder care dedicated furniture shop which had so many cool pieces! I really wanted this floor lamp but had no way of getting it home on the train. The sadness was real.
On a plus, I found this absolutely stunning wool cape for.... £1. Yeah dudes, read it and weep. £1 for all of that fabulousness. It's super quality and has already been getting me through the colder days. Just wait till you see me in it, looking all chic and shit.
I then made Naomi buy more stupid bits of clothing.
We took in more sights of Whitstable...
And why, oh why, did I not buy whatever the hell this is?! I am kicking myself for that one. I think I was just so excited about all of the charity shops that I was a bit overwhelmed. That's my only excuse.
We then went back to review our purchases. Want the full run down of what I got?
Wool cape - £1 (!!!)
Green satin full length vintage dressing gown: £4
Pink satin (actually 100% polyester lol) pyjamas - £4
Pink T shirt: £3.50
Green pencil skirt: £4
Short sleeve cashmere sweater: £4
Pink 80s St Michael embroidered bow jumper: £3.50
Houndstooth Cardigan: £4
Yellow 60s style pencil dress: £6
White red and black checked jumper: £4
Min green beret: £1
Vintage yellow and black hardback books :£1 each
Vintage 'Fashion Knits' magazines: 50p each
Check both of these ones out in my latest 'favourites' video by clicking here!
Gilt frames: £1 each
So that's a grand total of £44 quid for all of this!
This is why I preach on and on about charity shops. Where else would I have got all of those awesome unique pieces for under £50?! It's amazing really. Don't knock it until you've tried it ok? If I have one challenge to you this week it's to go into your local charity shop and have a root around.
Want to see some of my other recent charity shops finds? Check out this blog post!
Anyway, moving on. After taking a standard picture of Naomi posing on a tractor, it was out for a final dinner of lobster at The Lobster Shack (delish) and more oysters! By this point I was a seasoned pro.
And that was our brief but beautiful time in Whitstable! I'll definitely be going back next summer even if it's just to fill up a car full of cool vintage bits and bobs. I think I spent about £40 and got a whole new wardrobe. I'm well pleased!
Shop vintage, people. Not only is it way more fun and interesting, it's good for the environment and stuff like that. Not to mention that money going to the charities too (I almost forget that sometimes).
Have you ever been to Whitstable? I'd love to hear your recommendations of where I should try next time! Leave a comment and let me know.
S x
P.S if you enjoyed this, feel free to sign up to my mailing list. I email everyone when I do new blog posts so you don't miss anything :)