GET THE LOOK: BOARDWALK EMPIRE'S ONYX CLUB
SO EXCITED! The 5th and final season (sniff) of Boardwalk Empire hit our screens last night, bringing 1931 back into our lives with more guts and glory than we only hoped it could.
If you, like me, love the look and feel of the Boardwalk Empire interiors then I've put together the ultimate shopping list to help you achieve the dark, smoky, moody and incredibly captivating style of the show.
*(HBO own all photos used in this post)*
First, let's just have a little moment of appreciation for the set designer on Boardwalk. I mean, these sets are so real you can almost taste them! Dark woods, leather, cigarette smoke and all the bourbon you could drink...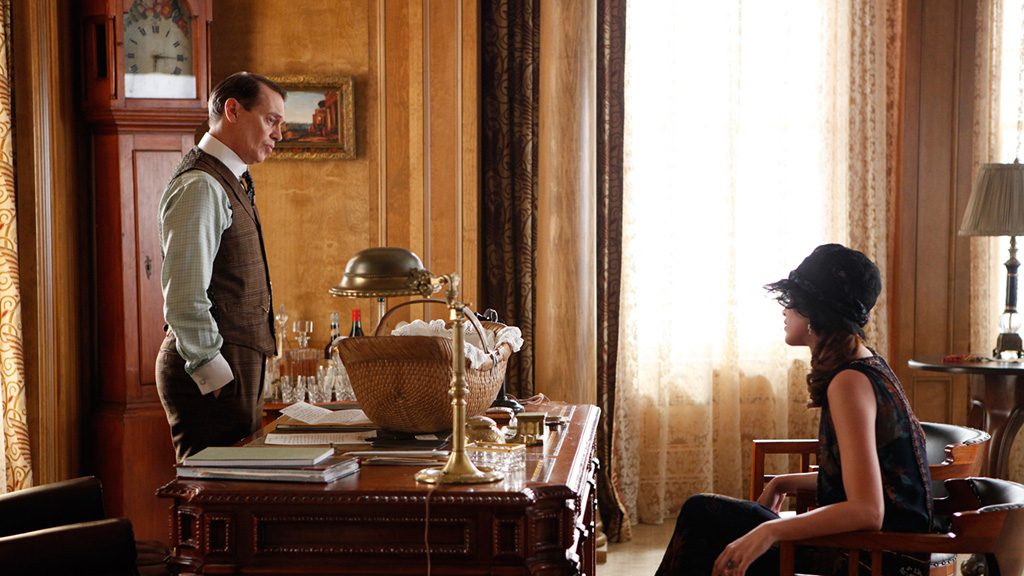 A favourite for me was the upstairs office of the newly added Onyx, Chalky White's flapper-tastic jazz bar. Think panelled walls, fringed lampshades, Art Deco wallpaper and leather Chesterfield sofas.
I've put together a little selection of Onyx club inspired products for you to recreate the look...
CLOCKWISE FROM TOP RIGHT
1931 Chesterfield Sofa, Chesterfields, from £1311
Mahogany Volute wallpaper, Bradbury & Bradbury, $67 per roll
Mahogany Havana wallpaper, Bradbury & Bradbury, $67 per roll
Art Deco walnut and glass cabinet, eBay, £99.99
Waterford Lismre tumblers (set of 2), £100
Pair of fringed brass lamps, eBay, £53.90
Deco by Harlequin wallpaper, wallpaperdirect.com, £41 per roll
Deco Fabulous wallpaper, wallpaperdirect.com, £100 per roll
To finish it off, here's a little Onyx Club inspired room that I created on the neybers app...
So did you tune in last night? Are you sad it's the last season of Boardwalk?
S x