E17 TOUR PART 1 : PIE + MASH AND THE WILLIAM MORRIS MUSEUM
I've been meaning to catch up with an old friend of mine for a while, and due to both having crazy schedules we had rainchecked our meeting a few times. But last weekend the sun was shining and it was ON! Nicole had planned a full day of fun activities all based around my love for interiors. Who knew that Walthamstow had more treats to offer than Blazin' Squad?!
As we set off for brunch I was completely unaware of where we were heading. Nicole mentioned 'Manzee's' and said it was an old school pie and mash shop. Hmm. Considering I'm predominantly pescatarian the idea of a greasy pie and mash shop wasn't exactly thrilling me, but she promised it would be worth it and on this day, I was happy to be led along like a kid in a sweet shop. After what seemed like an eternity walking up Walthamstow market and realising we were wearing far too many layers, we arrived. And OH MY GOD it was worth it.
L Manze was originally opened in 1929 and has recently been granted Grade II listed status for its beautiful interior. Just check it out! Greasy caf' it ain't! This isn't some Shoreditch bar trying to look classic, this IS classic London heritage.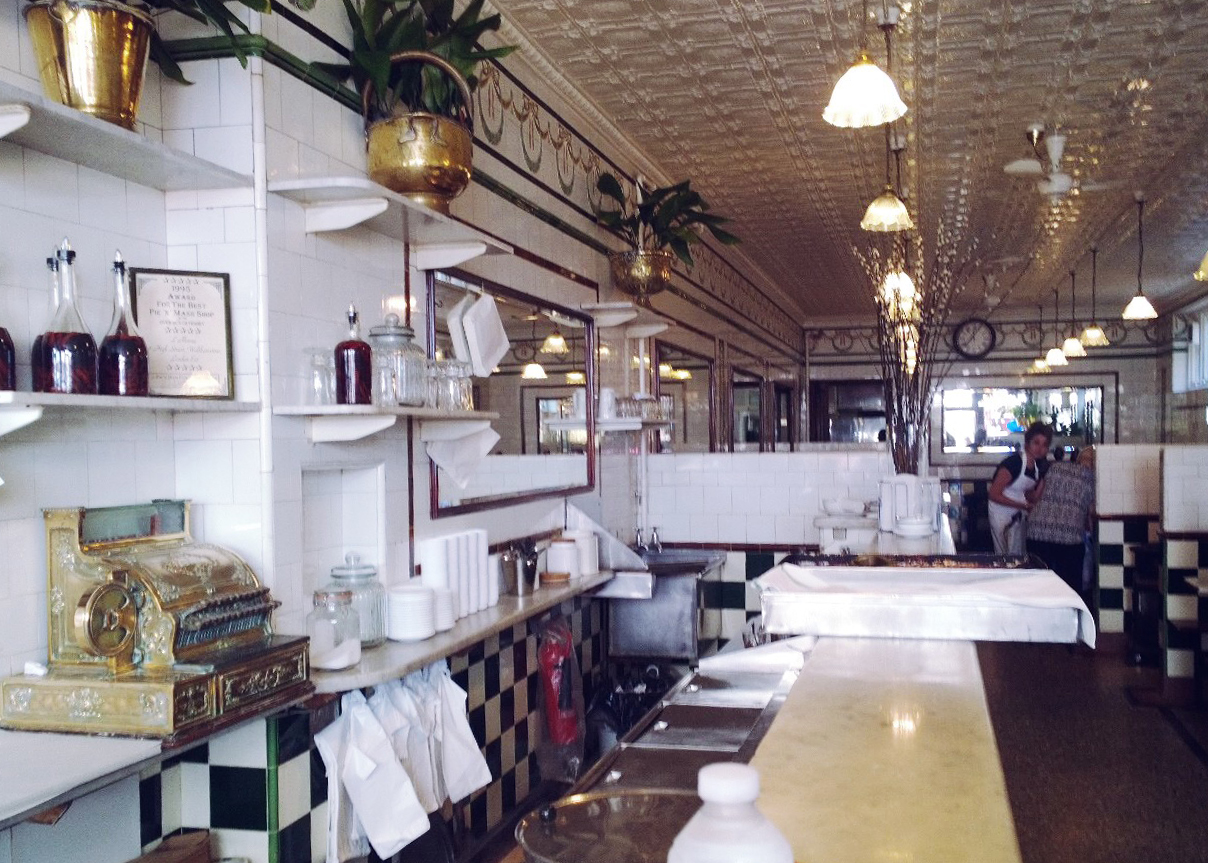 I had no idea what I was eating and i just ordered 'what she's having'. It was... interesting! I mean, I don't think I'd eat it again but it's definitely somewhere to take a tourist for a real slice of traditional London. The interior was superb. All original tiles, brass features and dark woods. You just cannot recreate this kind of authentic look. I was blown away. They didn't have a toilet but who cares?!
After wolfing down my pie and mash and trying not think to think about it, we left Manze's and took the stroll up the market to our next destination, the William Morris museum. Of course we couldn't resist taking a peek inside one of the many fabric shops and chatting about our studies in the design world. Nicole studied at the London College of Fashion and is now a producer at Burberry so she knows her stuff and I didn't hesitate to pick her brains over getting creative again with my own studies.
After seeing the sheer size of the market and all of the bits and bobs it contains I'll definitely be heading back with a wad of cash to pick out some random things for photoshoots and creative stuff. and perhaps a tie dye Dashiki.
After walking down random side roads and residential streets, I was sure we were getting lost. We got hotter and hotter until finally the end of the side road appeared and in front of us stood this...
Once again I was taken aback... what a building! The way we were winding down the backroads made me think it was going to be a little house or something... anyway. It was beautiful, even on approach. I couldn't stop taking pics.
The William Morris museum is completely free to browse and we got stuck in straight away. As a kid I was weirdly obsessed with William Morris, I think it was something to do with my Nana introducing me to his patterns at a young age, so his work has always held a special place and I have fond memories of trying to redraw his exquisite patterns.
The Georgian house itself is absolutely stunning, and I probably took as much time admiring the panelled walls and full height windows as much as I did take in the actual work itself. I didn't know that Morris produced stained glass and these pieces I was particularly drawn to, of course next to the intricate, symmetrical wallcoverings. We take the technology that we use to create repeat patterns so for granted nowadays. Just think about trying to create a pattern that detailed by hand now. Amazing stuff!
After taking in the works we headed out into the gardens for a little bit of sunshine and relaxation. The grounds are also very pretty, and just what we needed.
After raiding the gift shop and getting a quick pressie for my mum, we started the slow, sweaty walk to the next destination. On the way we passed the beautiful town hall, which has to be one of the finest I've ever seen! In the blazing sun it looked like a dictators palace more than a town hall. Who knew Walthamstow had this to offer?!
And the rest my folks, will be saved for part 2 of this post. I had so many pictures I'm afraid I needed to split it into two, but let me just say this... the next post will contain a LOT of neon!
Have you visited the William Morris museum? What did you think?
S x